Chemical Peels: Part 2
Where to get chemical peels |
Part 2: Where to Get Chemical Peels?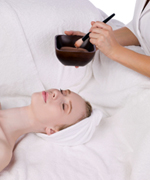 Chemical peels are available at your local dermatologist or plastic surgeon's office. Most medical/day spas and skin care clinics also offer these services.

One glycolic acid or lactic acid peel usually costs around $75-$100. TCA peels are a bit more expensive and range around $200-$300. The price of chemical peels will vary depending on where you get them done and what type and strength of peel you get. The higher the percentage, the more expensive the peel.
Most places sell chemical peels in a package of 3 or 6. These packages might be a better idea if you have lots of skin damage you want fixed (i.e. lots of acne marks or hyper-pigmentation, etc) because it takes more than one chemical peel for you to get your desired results.
If you plan to get more than one treatment session anyway, a package is more affordable. I usually get one individual peel first to see how I like it and how my skin responds and if everything goes smoothly, I then go ahead and buy the package. Most of the places I've been to have been nice enough to let me include my first "test" peel as part of the package. Every place is different though.
When getting a chemical peel, make sure the dermatologist, plastic surgeon, or facialist you choose is a reputable one. Ask your friends for recommendations and check online for doctor or spa reviews. You definitely want someone who knows what he/she is doing to give you the peel. Most of the time, spas and doctors' offices will not hold themselves liable for any damages incurred from the facial procedure, so do your homework and make sure you get one from someone trustworthy.
Also, be aware of any side effects and warnings before you get a chemical peel so you know what to expect from the peel.
Professional vs. At-Home Chemical Peels
Instead of going to a dermatologist for a professional chemical peel, you can opt for using at-home chemical peel kits. At-home peels are cheaper than professional ones, but you run the risk of damaging your skin since there is no professional to guide and monitor the peel's progress. It is generally better to get a professional peel first, before venturing out and doing at-home peels yourself. That way you will have an idea of how peels work and how your skin responds.
I have gotten both professional and at-home peels done and I feel like they are pretty much the same. The professional ones feel nicer though, because of the environment and because you may have people fanning your skin and pampering you. However, the at-home ones work just as well and are more affordable. I would definitely get very high percentage peels, like 50%+ glycolic acid peels or 24%+ TCA peels, done by a professional. High percentage chemical peels are risky to do by yourself.
If you purchase an at-home peel, make sure you follow the merchant's directions to a T. Don't start off with too high of a percentage of acid and don't leave the peel on your skin for too long when you first use it. A patch test is also vital. Instead of buying a whole peel, most online places offer sample vials. Get these first to see if the peel solution agrees with your skin before purchasing full-size bottles.
Another thing to keep in mind is that if you purchase at-home chemical peels, they will generally increase in concentration as time goes by. Therefore, if you let the peel sit on your bathroom counter, it'll gradually get stronger as the water part of it slowly evaporates. If you are doing an at-home peel or want to know how to give yourself a chemical peel, please read this.
You can get chemical peels at the doctor's office or give yourself one in the comforts of your own home. It is up to you to make the decision, although generally, it's best to err on the side of caution and have a professional do it for you.
Move onto the part 3 to understand how chemical peels can be used to treat acne and whether they actually work as an acne treatment.
Last updated: September 20, 2012
Part 3: Chemical Peels as an Acne Treatment
---