How to Choose the Right Sunscreen
5 things to look for in a great sunscreen |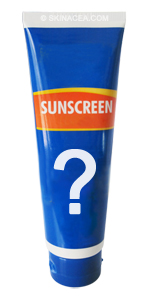 Many people think that using moisturizer or foundation with SPF is enough protection from the sun. However, this is incorrect. SPF included in these products is usually not very stable and does not provide adequate protection on its own. You also probably don't use enough moisturizer or SPF makeup to get sufficient sun protection. Therefore, it's best to use a moisturizer without SPF and a separate sunscreen afterwards.

The process of finding your holy grail sunscreen can be confusing. Like treating acne, it's all about trial and error. However, you can make the process of looking for a good sunscreen a little bit easier by taking the following 5 things into consideration: photostability, broad-spectrum protection, potential irritation, cosmetic finish, and cost and availability. This will give you the best chance at choosing the right sunscreen for your skin.


When it comes to choosing a good sunscreen, it all boils down to using something your skin likes and something that isn't too big of a hassle to buy, even if the sunscreen doesn't offer the best protection.
For example, if you're trying to get the maximum sun protection possible but you end up looking like a broken out, greasy Casper, it really isn't worth it. The way I like to think of it is, would I rather dread and hate putting on sunscreen every single day of my life? Or would I rather use a sunscreen that's maybe not as good, get a few wrinkles and sun damage here and there, but ultimately be happy with how my skin feels every day? Choosing a sunscreen can seem overly scientific, but that doesn't mean it has to be illogical.
Besides choosing a photostable, broad-spectrum, good-feeling sunscreen, it is also important to know how to wear sunscreen the right way to get the maximum amount of protection. Did you know you have to wait 30 minutes after applying some sunscreens before going outside? Do you put enough sunscreen on your face for the sunscreen to be effective?
Read here for more information about proper sunscreen application.
Last updated: September 12, 2012
---
---